Tentex Forte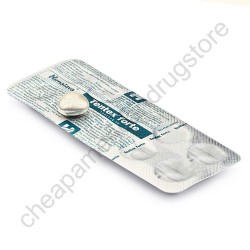 Brand:
Himalaya Herbal Healthcare
Availability:
In Stock
Rating :

Tentex Forte is proprietary Ayurvedic medication from Himalaya Drug Company. This medication is indicated in low libido, erectile dysfunction, low testosterone level, and male sexual weakness. The medicine contains natural ingredients and is a non-hormonal sex stimulant. The medicine consumption improves sexual performance. It has anti-stress and adaptogenic properties for doing the job.
The medication has an antidepressant effect on the central nervous system and it also stimulates the effect on the brain and lowers anxiety and stress like condition. The medication is a combination of aphrodisiac, sedative and tonic active component of plant and mineral origin. The medication works by enhancing body immunity for keeping away the infections.
Tentex Forte medicine helps in indulging spermatogenesis in males. The consumption enhances the testosterone level and sperm count. The medicine also helps in enhancing libido and penile erection. This combination aids in lowering the stress, anxiety and enhances energy level and testosterone level. Reproductive organs are nourished due to anabolic effect. All of such factors contribute to enhancing sexual performance of male.
The medication Tentex Forte enhances the testosterone levels in the body, which prevents erectile dysfunction in man. The medicine relaxes muscles around erectile tissue and penile arteries that sustain penile erections in man.
Winter Cherry (Ashwagandha) in the pill is a potent adaptogen that relieves mental stress, which is a key contributor to poor sexual performance. The medication is an effective antioxidant, which aids in alleviating male sexual dysfunction.
Shilajeet helps in enhancing boosts up by as an adaptogen and helps in rejuvenating the body for enhancing sexual function.
Cowhage/Velvet Bean (Kapikachchu) is an aphrodisiac, which helps in supporting the production of hormones that are directly associated with the 'pleasure system' of the brain. The herb is a prophylactic (preventative) against oligospermia (which is known as a low sperm count).
Small Caltrops (Gokshura) is known to be beneficial for treating erectile dysfunction condition as it strengthens the penile tissue. Protodioscin is a precursor of testosterone that is found in Small Caltrops, which is converted to dehydroepiandrosterone (DHEA) in the bod for enhancing the flow-mediated vasodilation of the penile arteries.
Consumption of two tablets twice a day in morning and evening with milk or water for 30 to 45 days is highly recommended. The reduction of dosage to 1 tablet twice a day can be done. Fore safe outcomes you can take the dosage as prescribed by the physician.
Practicing proper diet and lifestyle shall also enhance the overall effectiveness of this medication. So this is what one needs to do for having proper diet:
Consume a lot of fruits, green leafy vegetables, almonds, milk, green tea, soy products, raisins etc. Make sure that you are away from alcohol, tobacco, spicy, and acidic food. Practice exercise regularly and also indulges in yoga. This shall boost up your energy and fitness level, which will enhance blood circulation in the body for making the mind more relaxed and calm, which shall help to get rid of sexual weakness and depression.
Write a review
Your Name:
Your Review:
Note:

HTML is not translated!
Rating:
Bad
Good
Enter the code in the box below: