Proscalpin 1mg Fortune Healthcare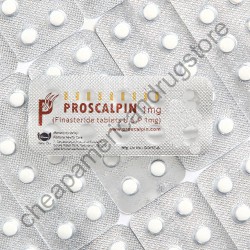 Brand:
Fortune Health Care
Availability:
In Stock
Rating :

Proscalpin 1mg medicine composed of Finasteride is used for treating male pattern hair loss (androgenetic alopecia). The medication is just a brand of finasteride, which is popularly known as Propecia, which is the most popular hair loss treatment in history. This medication is the most effective medication of its kind and it might work better than any other possible hair loss treatment. The medication is addressed to an underlying issue and helps treat hair loss from the inside.
Finasteride component in this Proscalpin 1mg medicine belongs to a class of solution known as 5-alpha reductase inhibitors. It works by inhibiting the conversion of testosterone right into the more potent androgen, dihydrotestosterone. This complete action might lead to a reduction in prostate size, with the improvement of urinary flow rate and incompletely obstructive symptoms. The medicine also reduces androgen activity in the scalp that stops hair growth.
Always make sure that you follow the instructions of the doctor regarding the dosage and duration. As monotherapy for treating male pattern hair loss take mg/day.
The lowered volume of ejaculate, lowered sexual desire (libido), inability for getting a stiffer penile erection, mood alterations with depressive symptom, issues with penile erection, allergic reactions, including rash, itching of the skin, pale, red raised itchy skin rash and swelling of the lips and face, breast tenderness and also enlargement (gynecomastia), testicular pain, infertility, palpitation, and enhances liver enzyme.
Patients that are allergic to finasteride, other 5-alpha-reductase inhibitors or any of such ingredients, soya, and peanut should not try this medicine. Women, children, and adolescents should stay away from Proscalpin 1mg. The medicine should never be handled by small children and pregnant women. A main active component in this medicine, finasteride might be absorbed through the skin and may lead to some unwanted effects in small children and pregnant women as the ingredients pass into the blood of the fetus. Some researchers have also suggested that consumption of Proscalpin 1mg might enhance the likelihood of developing prostatic cancer.
Write a review
Your Name:
Your Review:
Note:

HTML is not translated!
Rating:
Bad
Good
Enter the code in the box below: