Kwiknic 2mg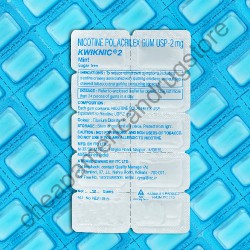 Rating :

Kwiknic 2mg are chews that are a sensational productive treatment for both male and female that helps to relieve the habit of smoking. Such medicines in chewable forms are composed of most refreshing mint-flavor for oral consumption. The medicated chewing gums are Nicotine Replacement Therapy (NRT), which helps for cutting down the urge for smoking or taking tobacco as a regular practice. The chewable gums are manufactured by ITC Ltd. which is available in blister pack of 10 chewable tabs for oral consumption.
Intake of only one Kwiknic 2mg chewing gum which helps in making it easier for a person to give up their smoking habits without any urge of irritations, anger or frustration at any particular moment. Content in this medicated chewing gum shall help to fulfill the urge of a person for chewing tobacco or smoke. The act of smoking is injurious to health in every manner. It is highly essential for making a positive approach towards healthy living and the chewing gum proves a surefire solution for such conditions.
Kwiknic 2mg chews can be consumed on regular basis for experiencing positive response with reference to an ingredient in chews and works amazing for fulfilling the urge of smoking. This is an amazing medicated chew for adults that are addicted to smoke or chew tobacco. The medicated chew works as soon as consumed and does not show any adverse reactions.
You can take the chew as many times as you want to or as many time you develop an urge to smoke within. The medicated chewing gum should be stored in cool and dry place. The mint flavored chewing gums is not safe for consumption by minors and should be strictly avoided if you are allergic to nicotine. Side effects usually occur in rare cases. However, some allergic reactions with the ingredient in this medicine might take place that may need medical assistance.
Before consuming Kwiknic 2mg medicated chewing gum, make sure that you inform your doctor of any medical condition that is going on. Also, make sure if you are not allergic to any of the ingredients in this chewing gum. It is not unsafe to consume this gum in case, you are pregnant or breastfeeding, or with any other significant facts about the health.
Safety and effectiveness of Kwiknic 2mg medicine have not been established for people consuming the medicine are under the age of 18.
Write a review
Your Name:
Your Review:
Note:

HTML is not translated!
Rating:
Bad
Good
Enter the code in the box below: